Get Started With Your Wellbeing Journey ...
What Is Wellbeing Anyway & How Can Therapy or Coaching Help?
Is wellbeing all about having a 9-5 job, doing yoga, listening to music, eating healthy and travelling with a loved one? Or is there more lying underneath that? Here's what you can expect in a session.
Gain a deeper insight into yourself

Come to a safe non judgmental space to speak

Make value based decisions rather than hearsay or advise!

Experience renewed relationships with yourself and others

Create a clear plan of action and continue checking in
What We Offer
Gone are the days when meeting a Psychologist was about spending years in endless number of sessions that cost a lot of time and money.

The goal is to help you get you running on your own.

Therapy or coaching is not mindless talking, but sessions are result oriented keeping your goals in mind. So let us help you grow as an individual.
Got Questions? ( Pricing, Faqs, Policies )


Expertise, Quality & Approach



Still got questions? Feel free to email sruthi.ravindran@thehappyspace.in
Sruthi Ravindran
Founder/ Senior Psychologist
Sruthi founded The Happy Space in 2020 after a decade of corporate stint with various consulting firms in Delhi and Kochi. She completed her Masters in Applied Psychology in Pondicherry in 2011.  With a quest to learn more she also completed Diplomas in Training and Development from The Indian Society of Training and Development ( ISTD ) and a PG Certificate in Counselling Psychology from Institute of Human Relations & Psychotherapy in Vellore. 
 Sruthi has always strived to create a safe and empathetic space for her clients from diverse backgrounds. Having spent years growing up in multi-cultural towns like the old Kochi, Pondicherry, Delhi and Chennai she offers wellbeing support to clients across the world today. 
When she's not sitting down with clients for a therapy session, she's a mother to a 7 year old,  a wife and a born singer trained in varied styles of Indian classical, Western Blues, Jazz, Soul and Pop. She often encourages clients to share their success stories, creative literature, art works etc. to cope with their struggles. 
Languages Spoken : English, Malayalam, 
Fee: INR 2000 per hour for individuals and INR 3000 for 90 min couple or family sessions.
Varsha George
Psychologist
Varsha completed her Master's in Counselling Psychology from Sampurna Montfort Institute in Bangalore and Stella Maris College, Chennai. She has been associated  with organizations like Emote – The Rise House of Healing and happiness, Montfort College and Adyar Cancer Institute. 
She loves music, sports, and art and considers herself an intersectional feminist. As a counsellor, her strength lies in being client centered through empathy, non-judgment, effective listening along with a touch of humour which her clients love. 
Born in Kerala and now living in Chennai, a true Mallu who always looks forward to returning to her hometown of Kochi to spend time with her family over delicious home made food. "Having the melody of Kishore Kumar and SPB playing in my ears after a long day at work calms me down." She also loves to recharge herself through travel and exploring new places with loved ones.
Languages Spoken : English, Malayalam, Tamil, Hindi
Fee: INR 1450 per hour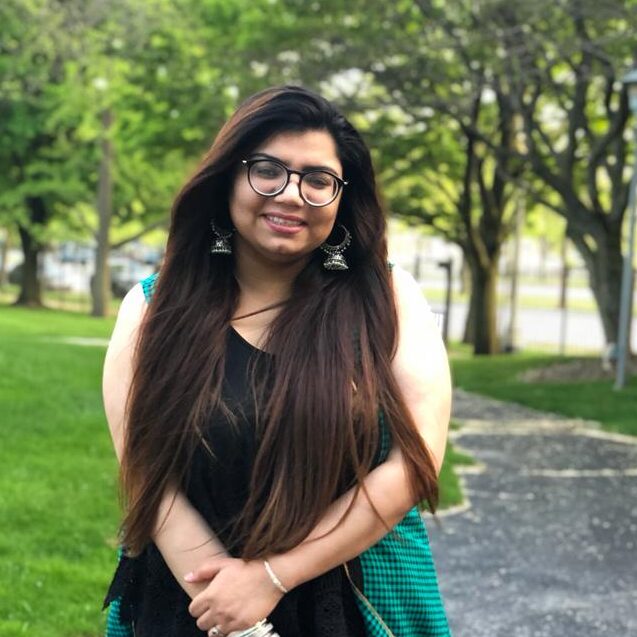 Guraksha Pabreja
Psychologist
Guraksha is a Licensed Psychotherapist who received her Master's in Clinical Psychology (Counseling Practices) from Roosevelt University, Chicago, IL and her Bachelor's from Delhi University.
Guraksha believes that counseling is not just for someone who is struggling but for anyone who can benefit from a safe space to express their thoughts and feelings without any fear of judgment or negative consequences.
As a bilingual and bicultural clinician, Guraksha is available to provide services in English and Hindi. Guraksha's initial training has been with adolescents and young adults struggling with the phase of life issues anxiety, depression, trauma as well as individuals dealing with issues around their ethnicity, sexual orientation, and gender identity ( LGBTQ ). She has also worked extensively with adults. Guraksha utilizes elements from client-centered approach, strength-based approach and feminist approach tailored to each person's needs.'
Languages Spoken : English, Hindi, Punjabi
Fee: INR 1450 per hour
Senior Psychologist Packages
Choose the package that works best for you, reserve a day and time that works best for you on the calendar.  
INR 8000 INR 7,000 (Saves 14 % )
INR 12000 INR 10,500 (Saves 14 % )
*If the session extends beyond one hour, there would be an additional fee of INR 500 for 15 min, INR 1000 for 30 min and INR 1500 for 45 min. Your first session in therapy or discovery coaching sessions may extend to 90 or 120 min as per your need. To know more about The Happy Space and your Psychologist/ Coach – click here. 
If you like to book an appointment, hover over to the book appointment section right here to view our calendar and choose your preferred date and time slot.
If you have more questions before beginning a session, you are welcome to reach The Happy Space. Please drop us an email at vishnupriya.ks@thehappyspace.in or whatsapp message at +919625632262

To know more about The Happy Space click here.